4th Edition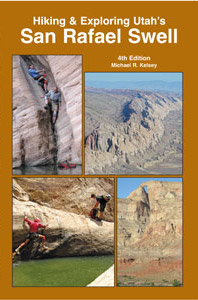 The new 4th Edition of the San Rafael Swell Guide is now at Brigham Distributing and at most of my other distributors.  The quickest ways to get this book is to contact Brigham at 435-723-6611, or brigdist@sisna.com.  You can also get them at amazon.com or any online service.  Also, this new edition is

now

in the Powell Museum in Green River, Back of Beyond Bookstore in Moab, the Geo Bookstore at the DWR, 1595 W. North Temple in Salt Lake City, and at Stewart's Market and the Museum of the San Rafael in Castle Dale.   When you order, be sure to state you want the 

4th Edition with 

ISBN 978-0-944510-30-8

.       
This all-new 4th Edition has 352 pages, 410 mostly-color fotos, ISBN 978-0-944510-30-8, and is priced at $19.95.
This book covers the same areas as previous editions, but has lots of updates, plus half a dozen completely new hiking regions.  Some new hikes are to the top of, or inside, Hondu Arch from Tomsich Butte; and to Johns Hole, Keesle Canyon & Crack–climbers will love this one.  Lots of new history  too.  One is a hike, or drive if the 4WD road it's too bad, to an area where in 1943, a US Army Air Force plane went down with 6 men–which happens to be in a very scenic valley at the south end of the Swell.  Also discussed are a couple of shoot-outs: one being the killing of Shoot-'Em-Bill Hatfield, of Hatfield & McCoy's fame, along with new history of the San Rafael Ranches, the old mail trail running between Green River and Hanksville, plus more.   It also has the story of the 2 young sheepherders who shot Sheriff Burns in 1894 in the mountains east of Castle Valley, but escaped to the East Desert and McCarty Canyon where they had a shootout with other marshals.  Those marshals were guided by Sid & Rod Swasey.   Those 2 sheepherders, who were just boys, escaped and lived their lives elsewhere–but no one knows where they went, or under what new names they must have used.  If their kinfolk know, they aren't talking!  Also in this edition is an updated history of the Swasey family and their adventures in the San Rafael region.  All that research is the reason this book is a little late coming out.  Also, new to this edition are lots more hikes to rock art sites.
Update:  August 19, 2017, Salt Lake Tribune: Rescuers use dish soap to free woman trapped for 12 hours in Utah slot canyon
A woman was wedged in a slot canyon in the southern Utah's San Rafael Swell for 12 hours this week before rescuers were able to wrestle her out with the help of a gallon of dish soap. The 24-year-old Salt Lake County woman, identified as Lindsey Hargrave by KUTV, had slipped in a narrow part of Zero Gravity Canyon (Called Little Iron Wash in Michael R. Kelsey's book, Hiking and Exploring Utah's San Rafael Swell, 4th Edition) and gotten wedged Wednesday, according to a Facebook post from the Emery County Sheriff's Office. "She slipped and fell down in where it was too tight," Emery County Sheriff's Office spokeswoman Janalee Luke said Friday. Hargrave's husband, William Hargrave, tried for two hours to free her before he hiked out to call 911.  "The longer she was sitting there, she started kind of slipping a little bit and getting more stuck," William Hargrave told KUTV. Emery County Search and Rescue rope team members reported that Hargrave had a difficult time breathing and was in pain and "extremely distraught" when they found her suspended in the canyon. One man — a nurse with the medical helicopter who has experience canyoneering — was the only person small enough to fit into the narrow crevasse, according to Luke. The team lowered him down headfirst so he could hook up webbing and rope to create a rigging system to connect to Hargrave's harness. But she was wedged in too tightly to be pulled out. "Without him there, [rescuers] wouldn't have had a way to get down into her, it was just too narrow right there," Luke said.  The nurse then climbed up the slot canyon from below and held the bottom of her feet so she could push herself up while rescuers pulled her from above. But moving that way made it more difficult for her to breathe and caused her more pain. Rescuers then shifted Hargrave side to side "in a seesaw motion" while pouring a gallon of dish soap around her, the post stated. Eventually, Hargrave was shimmied free and able to sit on a choke stone in the canyon. Rescuers then put her in a new harness and pulled her out. She was put into the medical helicopter at 2 a.m. Thursday, nearly 12 hours after initially getting stuck.  N "When they finally were able to pull her out, I had a mix of happiness and still a lot of fear and tension," her husband said. William Hargrave told KUTV he appreciated the rescue team, which worked in the dark to free his wife. "I just can't thank them enough for what they were able to do," he said. This was the second rescue from Zero Gravity this summer, according to the Emery County Sheriff's Office. The first was within 4 feet of this week's rescue, under a choke stone near the end of the slot canyon, just before a pool and the wash. Some people rappel from above the choke stone, but smaller climbers can make it through below the stone. Hargrave, whom KUTV called an experience climber, had gone below but slipped and got stuck, Luke said. On Friday, Hargrave remained hospitalized in fair condition, while doctors watch for signs of suspension trauma and compartment syndrome, Luke said. "This unfortunate event is a good time to remind those visiting the San Rafael Desert to do thorough research on the areas you intend to hike. Some canyons come with size restrictions, including Zero Gravity," the Emery County Sheriff's Office wrote. The rescue team came up with the tactic of using dish soap a few years ago, when a Boy Scout got stuck near the same place of the canyon, Luke said. Someone drove 35 miles to the nearest grocery store, in Green River, to buy the soap, she said.
On September 7, 2013, Lubos & Suzanne Pavel and myself went through the lower end of Eardley Canyon and Little Iron Wash (same day) in the east central part of the San Rafael Swell.  Lubos put together a short video on our trip.   https://vimeo.com/74221895