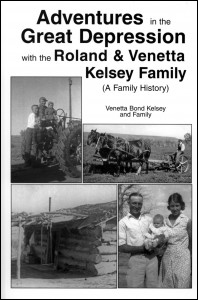 Written by the Kelsey Family & Michael R. Kelsey
Most non-family members won't be interested in this book, but additional research was done on some of the major events that happened to our family during the Great Depression and World War II; many of those adventures would be interesting to everyone.  Some of that research included 2 of our most famous relatives; William H. Dame, of Mountain Meadow Massacre fame.  He was the Stake President in Parowan and the senior military officer for all of southern Utah on September 11, 1857.  It was his conflicting orders that lead to the attack and death of 120 wagon train emigrants.  Also, Laraine (Johnson) Day (born & raised in Roosevelt, Utah), was one of the biggest Hollywood stars during the 1940's & '50's.  A summery of their life stories are told.
Additional Research was done on Manassa, Colorado, hometown of one of our great grandparents Baylus Earl & Elmina Pinckard Sprouse, and Jack Dempsey, who's family they knew very well; so the story of Jack Dempsey is told.  Also, a short history of the towns of Watson & Dragon, Utah where Dad spent a couple of his boyhood years while his father worked in or along side the Gilsonite mines.
Not long before Mom & Dad were married was another of our great grandfathers testifying before a US Senate Committee on Public Lands & Surveys; that was Ed Bushnell, long time sheep man.  But he didn't go to Washington DC like Mr. Smith—the hearings were held in Salt Lake City instead!
Because Mom & Dad got married on November 14, 1929, it was necessary to recall the stock market crash just 2 weeks before that.  Neither of them knew anything about Wall Street and the stock market, but they would soon learn all about the Great Depression!
For about their first 3 years of marriage, they lived in abandoned farmhouses in the North Tract northwest of Delta, Utah—and they didn't pay a dime in rent.  The reason for the abandoned farm homes was researched and the story of the water-logged lands is told.
Later, and because of the drought of 1934, there was no feed for our cows, so Dad had to kill most of the herd which the government bought for $12 a head; so research was done into that, as well as the building of Moon Lake (in the Uinta Mountains) and canals in Utah's Uintah Basin.  That project was a direct result of the terrible drought of 1934.  This same drought is what created the Dust Bowl in the Great Plains.
Our family lived in a little one-roomed log cabin on the Duchesne River near Duchesne, Utah, during the winter of 1936-'37; the coldest in Utah State recorded history.
The family moved to California for 2 years near the beginning of WWII so Dad could find work; that was in 1941 and it was there they paid money for rent for the first time in their lives!  In California, there are additional stories about Knotts Berry Farm, the Zoot Suiters and the Zoot Suit Riots of June, 1943, the issuing of dog tags to everyone living on the West Coast along with Dad being an air raid warden.  Also discussed was the rationing of many things during the war along with ration stamps/books.
The Great Depression ended for our family August 2, 1954; that's when we moved from a farm near Roosevelt and Utah's Uintah Basin, to Provo, Utah.  Dad & Mom's story during the Great Depression is easily as good as John Steinbeck's book & movie, The Grapes of Wrath.
392 pages, 420 B+W Fotos, Perfect Bound, 15cms x 23cms (6″ x 9″), ISBN 978-0-944510-31-5,  $9.95.