3rd Edition
This new 3rd Edition combines a hiking & travel guide to Utah's Henry Mountains and Robbers Roost Country, an area made famous by Butch Cassidy and the Wild Bunch.  This book combines high mountain climbing as well as deep desert canyon and slot canyon hiking.   About 2/3's of the book is devoted to hiking, with 42 mapped hikes or climbs.  Some of the canyon hikes are technical in nature with rappelling through some of the best slot canyons in the world (some of these technical slots are new to this book and aren't in the author's other book, Technical Slot Canyon Guide to the Colorado Plateau).  The last third of the book concentrates on the history of Indians, early white explores, ghost towns, ranches (including the Robbers Roost Ranch), miners, and a chapter on the Life & Legend of Butch Cassidy.  It also has sections on geology, wild horses & burros, plus the latest on the Henry Mountains wild buffalo herd.
288 pages, 308 mostly color fotos, 15cms x 23cms (6″x9″), ISBN 978-0944510-25-4.
US$15.95 (Mail orders $18)
Blue John Canyon 
About a year ago, June 2013, I took a bunch of older Boy Scouts down Blue John Canyon in the Roost Country.  At that time, there was no webbing in the Upper Slot of the Main Fork of Blue John except at the first dropoff of 6m.  We simply downclimbed the entire thing.  None of the Scouts had ever done that sort of thing before, but they were talk-down OK.   They all did well.  We returned via the West Fork.  Fun hike.
The 1st foto below shows 4 Scouts downclimbing the upper part of the Upper Main Fork of Blue John Canyon.  It might look a little scary to some, but it's easier than it first appears.  The 2nd foto shows a young owl–probably a Great Horned?–that had just landed on the foot of Luke Kennard.  It was born and raised in one of the many tiny alcoves in Blue John Canyon.  Previous hikers must have made friends with this one.
To enlarge the picture below, click once or twice.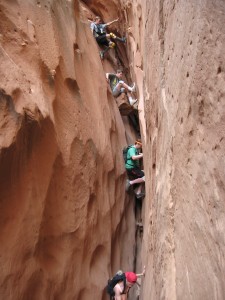 Update:  Low Spur Canyon, The Spur & Robbers Roost Country
(Submitted June 2, 2013)
I recently got a letter from Ben Capelin of Durango, Colorado.  He and 3 friends had just completed a canyon that this writer didn't quite finished.  It's Low Spur Canyon in the north end of the Spur Country just east of the Roost.  They found no webbing, so they were likely the first to do this entire canyon.  Go to pages 122-125 in my Technical Slot Canyon Guide; or pages 32-35 in my Henry Mountains/Robbers Roost book.
We stopped at the Big Drop because it would have been a long day to do that and get back to the trailhead, but here's what Ben & friends did.  They did this in conjunction with a rafting trip down the Green River.  From their camp on the river, they walked up Horseshoe Canyon to the Angle Trail, scrambled up that, then road-walked to the Little Butte & trailhead as shown on both maps in either book.   From there it was down the 2 slots to the Big Drop.  They tied about 12 meters of webbing around one of the chokestones and fixed up their 60m rope plus other webbing as their pull rope.   They made it down OK, but didn't have enough on the pull side to reach the ground so they had to leave everything there.  It's about a 45m free rappel from near the chokestone.  What is needed for that Big Drop is one 60m rope, and an equally long pull cord or rope, plus some webbing around the chokestone.
After the Big Drop, and when they got close to Horseshoe Canyon itself, there was a dropoff of about 20m, but they managed to work & contour their way along ledges going downcanyon until they reached Barrier Creek itself.  From there, they walked right in the small stream back to camp on the Green River.  There is no bushwhacking if you stay right in the stream channel.  For them a 15 hour day, but a full moon helped in the end.
To make this a reasonable day-hike, at the end of Low Spur Canyon, walk down Horseshoe Canyon to the Angel Trail, walk up it to the Low Spur, then road-walk back to the trailhead.  Or, if you have two 4WD's, organize a shuttle and save about 2 hours walking at the end.  Another book which shows the Angel Trail is; Hiking, Biking and Exploring Canyonlands National Park and Vicinity, 2nd Edition, by this writer.