Michael R. Kelsey, a native Utahn, and born in 1943, experienced his earliest years of life in eastern Utah's Uintah Basin, first on a farm east of Myton, then in or near Roosevelt.  At age 11 and in 1954,  his family moved out of the Uintah Basin and the Great Depression, to Provo where he attended Provo High School and later Brigham Young University, where he earned a B.S. degree in Sociology.  Shortly thereafter, he discovered that was the wrong subject, so he attended the University of Utah, where he received his Master of Science degree in Geography (minoring in Geology).
It was two days after final exams at the U. of Utah when real life began.  On June 9, 1970 he put a pack on his back and started traveling for the first time.  Since then he has seen 224 countries (now counting South Sudan), republics, islands, or island groups.  When not traveling the world, he is mostly exploring the canyons of the Colorado Plateau.  All his wanderings have resulted in a series of 16 self-published books.  Michael continues to call Provo, Utah his home base.
The Hidden Peak Challenge for 2014 was held October 4, and yours truly came in 17th place overall in 1 hr. 8: 47.   It's the hamstring muscles that are getting tired first these days as they stiffen-up and take a toll on running speed.  A 53-year-old came in 1st place in 48 :06.  For the most part, much of this race is done with a fast walk and a long stride–not a lot of running.   Because the race was postponed one week because of snow, many participants couldn't come a week later so there was less than 60 in the event.   Below is a link to Sports-Am.com.
For a short video/pictures of the 2014 Hidden Peak Challenge, click on this link–or copy and paste into your search engine.  
http://www.youtube.com/watch?v=7QvH2ChlYDg&feature=youtu.be

 
To Enlarge any Picture, Click once or twice
The Hidden Peak Challenge above Snowbird, Utah, for 2013 was on September 21.   Yours truely was a little slower this year than in 2010 (he's now 70), but managed to come in 19th out of 102 runners.  About half were women, and one came in 9th!   For those who are interested, here's a link to sports-am.com>Race Results>Hidden Peak Challenge for 2013.
The Hidden Peak Challenge on September 20, 2010.  The skinny then-67-year old guy in the middle finished 18th overall.
Wahweap Toadstool.  Read about it in the Paria River Guide, 5th Edition, or the Non-Technical Canyon Guide to the Colorado Plateau, 6th Edition.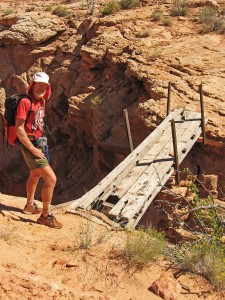 The sheep bridge over the slot canyon part of Moonshine Wash.  The slot is about 3 meters wide and roughly 35 meters deep at this point.  Moonshine Wash is located just west of the Green River Road which is west of the Green River; and about halfway between the town of Green River and Canyonlands NP.  This place is featured in the Non-Technical Canyon Guide to the Colorado Plateau, 6th Edition.  This picture was taken on August 26, 2010.
One of the better rock art sites around is this pictograph panel near the Lower Sand Slide in the middle part of the Escalante River near Escalante, Utah.  Read about this is the book, Non-Technical Canyon Guide to the Colorado Plateau, 6th Ed., Pages 228 to 233.
This is the little hut on top of Mt. Timpanogos, just north of Provo, Utah, in the spring of 2010.  Timp, for short, is featured in the Utah Mountaineering Guide.  Also, when time is available and in a few short years, the 2nd Edition of the book, Climbing and Exploring Utah's Mt. Timpanogos will be out.  That entire book will feature climbing Utah's best known mountain.
Celebrating Venetta Bond Kelsey's 100th Birthday (May 8, 2010) near Clear Lake, Utah, the little one-horse town Mother was born and raised in (it's now a ghost town).  The history of this little town is featured in the book, Life on the Black Rock Desert; a History of Clear Lake, Utah (Temporaily out of Print).  The family members are standing next to the cross marking the gravesite of the old Aldrach couple.  Mike is on the left end in the red T shirt.  In the background is Pot Mountain, an extinct volcano, one of many in Utah's West Desert west of Fillmore and south of Delta along Highway 257.  The top has been leveled off by waves of the pre-historic Lake Bonneville, but there are several volcanic throats sticking up on top.  They remain because throats of a volcano are made of more weather-resistent lava than the surrounding unconsolidated material.