(Temporarily  out of Print)
This is a guide to Utah's best-known mountain and hike, Mt. Timpanogos.  This books emphasis is on hiking and climbing to the mountains dozen peaks and 7 high cirque basins, but other subjects are also covered.  These include a chapter on the history of Provo Canyon, as well as the history of American Fork Canyon, Robert Redfords' Sundance Ski Resort, the Heber Creeper railroad line, the former Annual Timp Hike, Timp Cave, airplane crashes, hiking deaths and even murders on the mountain (Ted Bundy left one of his girls in American Fork Canyon).  Also, geology and Timps Rocky Mountain goat herd are discussed.
208 pages, 170 B+W fotos, perfect bound, waterproof cover, 15cms x 23cms (6″x9″).  ISBN 0-944510-00-0.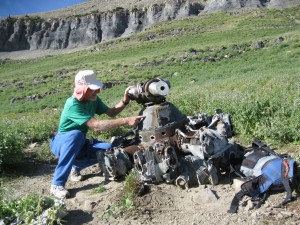 This is one of 2 airplane motors resting at the eastern base of Bomber Peak, one of several high summits on Utah's Mt. Timpanogos.  This foto was taken September 12, 2010.